For the past couple of years Data Unlocked have produced a tool to help parents and carers applying for school places for their children in the following year.
It allows you to put your address or post code in and from that it will create a map showing the cut off distances for schools in your area over the previous years. While it can't tell you for definite that you will or won't be successful, it helps parents in their decision making by giving an indication of recent trends. You can go to the map by clicking on the image below.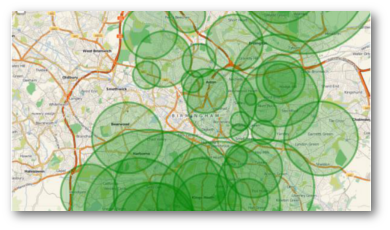 Last year we had some positive responses and helpful suggestions from people on the Birmingham Updates Facebook group, and we'd like to thank them once again for their feedback.
Also, this year we have changed the way that we get the data behind the map. Previously we have copied the data manually from the admissions handbook. This has never been the most fun we've ever had, and manually transcribing is prone to creating errors. So this year we put in a Freedom Of Information request for the data we wanted, supported by our friends in Digital Birmingham. We're pleased to be able to report that we are making good use of their data.
Our mapping tool is meant to enhance and be used alongside Birmingham's School Admission's Site. Note that there are still some queries about the data and that you should definitely not use our tool as the only tool by which you make your decision.