The Saturday before last, myself and Mike from Data Unlocked were at the Open Data Day event at Birmingham City University (BCU) which was run by Andrew MacKenzie and Pauline Roche of Open Mercia. Here we attempted to establish "An Open Data Store in a Day". The reason for this was because we wanted to experiment with a community run site that published and linked to open data across multiple organisations.
I did some preparatory work so that we had an instance of Ckan up and running in time for the start at 10am. By the end of the day we have over 50 resources loaded up to the store. This included such datasets as the last 10 years of grants that the BIG Lottery Fund have made in the West Midlands and the Joint Industry Committee for Regional Media Research's newspaper circulation figures across the region.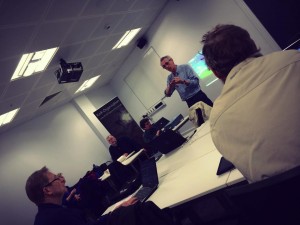 Our aim is not to have something as comprehensive as say The London Datastore across the whole West Midlands. That would probably be a little over-ambitious, at least at first. What we are looking to do is use it to demonstrate the practical benefits of hosting open data for the West Midlands in one place.
This will have two main benefits that I can immediately see:
It will stop me having to sit in long, tormented meetings where people from public sector organisations say "What data do you want, we've got lots of data, but I don't know what you might want." and people like me say "Just give us everything and then we'll tell you what is useful."
We can disabuse people of the idea that everything built around open data will be an app.
With that in mind, Will Perrin was kind enough to send us a link to a number of datasets that the Three Sixty Giving site has collated as part of its Open Philanthropy campaign. These will go nicely alongside the BIG Lottery files that he was instrumental in obtaining and Data Unlocked are hoping to do some work with some local charitable trusts to encourage them to look at what they can publish as open data. I hope we can show them that, as Will says,
open-ness leads to better grant making.  In particular where one grant maker can see the grants made by others when deciding to fund say a topic area or a particular grantee.  You can see gaps and who is backing who.  The more rich the data available, the better the investment decision
If we do then we should be able to demonstrate a practical outcome from the work we started last weekend, and that will make me happy.
We think there is still some work to be done on the datastore website – I won't list all the jobs here, but it could look prettier for a start. We also think that we've uncovered a few things worth raising with some of our local authorities. There is a lack of consistency in the way that expenditure over £500, which all local authorities have to publish, is made available. By starting to put it all in one place we think a conversation can be started to change this.
Also, some local authorities are putting some restrictive licenses on Freedom of Information requests they publish on What Do They Know. We'll be writing them an open letter in the next week or so, asking them to change and backdate their published FOI requests to an Open Government License one. Then we'll be able to load a lot more data into the store.
It is still very early days for the project. We think we've made a decent start and I'd like to thank people like Dave Harte and Paul Bradshaw both from BCU for their support and encouragement. Dave loaded some allotments data, even though he hadn't come along to the event, and Paul was kind enough to find us the venue.
People who attended the event and helped start the datastore were: Chris Price, Julia Higginbottom, Dan Cremin, Vicki Sargeant, Ashley Walker, Jack Wearden, Joel Hoskins, Andy Pryke, Dan Herbert, Matthew Green, Ted Ryan and Pauline Geoghegan
Data Unlocked have set up the store on behalf of Open Mercia and will continue to maintain and support it into the future. The datastore is there as a resource for anybody with an interest, sign up is free and we will only lightly moderate. If you've read this far then you should probably go and sign up now =0)